Azure's Web Page
Siamese / Snowshoe / Mixed (short coat) : : Male : : Adult : : Large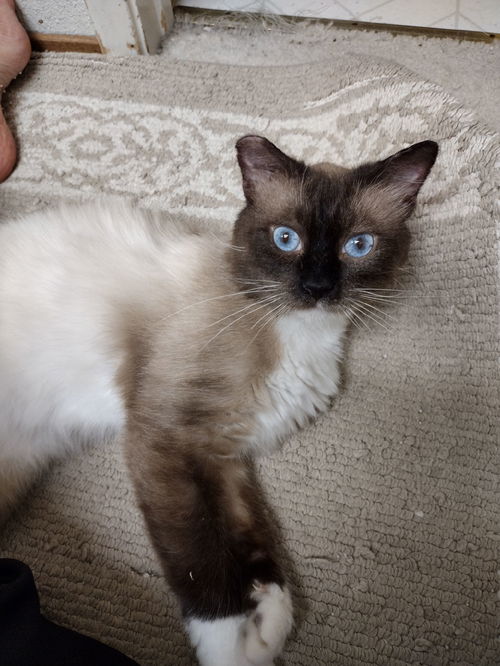 Contact Azure's Caretaker/Foster Directly: Jessica (jessicaLshortridge@yahoo.com)
About Azure

Status: Adopted!
Species: Cat
General Color: Chocolate (Mostly)

Location: 5879 Lonetree Way Brentwood CA 94513
Declawed: No
Housetrained: Yes
Named after his beautiful blue eyes, Azure is an affectionate boy who loves people and loves laying in your lap! He's a bit needy and really doesn't like to be alone and would rather spend all his time with you (which we think is a bonus!) but because of this someone who works long hour each day wouldn't be the best match. Hes intelligent and pays attention to people and what they are doing. He is very interested in food and is still be trained that people food isn't for him. Azure needs to be an only kitty. He wants all your attention so much that he's not willing to share ;)
He will rub against your legs when he wants attention or is greeting you which is very cute but may be a tripping hazard for anyone in the home with balance issues. He would be fine with younger kids, as long as the children are supervised with him and are gentle. Older children would be just fine. He has not been around dogs so we are unsure how he would do.
If you are interested in meeting this kitty you can fill out an online adoption application or visit him anytime at the Cat Adoption Center inside of Petsmart, 5879 Lone Tree Way, Antioch/Brentwood CA. Adoption hours 12-4pm daily.

All of our cats and kittens have been spayed/neutered, vaccinated, microchipped, tested and treated for parasites.
More about Azure
Not Good with Cats, Good with Kids